Multiple instances of ongoing e-mail phishing to Amazon, Paypal, and Sparkasse clients have been registered in the past days. Currently, the hackers are creating e-mails that ask consumers to enter their data on false claims and pretexts, as reported by the consumer center of North Rhine-Westphalia.
One e-mail falsely claimed that the legislation has changed due to Brexit, therefore requiring the user to relog personal information or credentials. This particular e-mail sent on 6th of December had an overdue deadline for the end of November. More precisely, hackers would also involve a submission deadline in their e-mail in order to induce psychological pressure on the victim. All of which is tied with a false claim o pretext. For example, invoking newly-passed legislation such as the recent EU data protection regulation, or a significant change in company policy, or similar vague excuses.
Internet users should have anti-viruses installed on all devices and should pay attention to fine details that unravel phishing traps. Things to look out for include the absence of the "https," spelling and grammatical errors, unclickable brand logos, and unnatural link redirections or forms. One must take into account that the creators are getting more and more sophisticated and experienced, so nothing is foolproof. Users should exert caution and skepticism at all times.
The financial group Sparkasse asks everyone to forward any suspicious e-mails to "warnung@sparkasse.de" and then delete them.
Phishing example: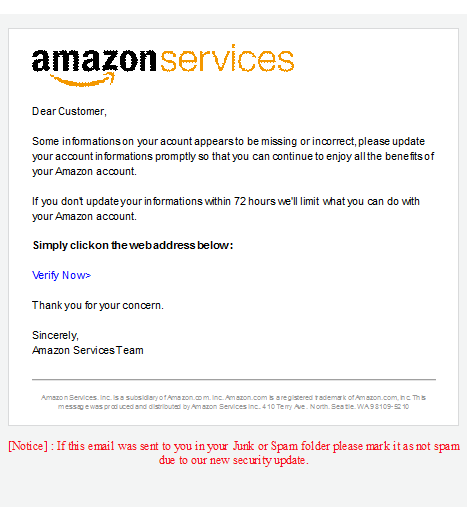 Sources:
https://www.verbraucherzentrale.nrw/wissen/digitale-welt/phishingradar/phishingradar-aktuelle-warnungen-6059